Soldiers will be delivering fuel in the next couple of days in a bid to ease petrol supply issues, the business secretary has said.
Kwasi Kwarteng admitted the past few days – which have seen long queues outside petrol stations and some pumps running dry – had been "difficult".
However, he denied there was a crisis in UK fuel supplies and said the situation was "stabilising".
Some 150 military drivers are ready to drive the fuel tankers.
Asked if the government should be deploying the Army now, rather than keeping them on standby, Mr Kwarteng said: "It takes a couple of days, sometimes a few days to get troops on the ground.
"We've decided to do that and I think in the next couple of days, people will see some soldiers driving the tanker fleet.
Asked whether the decision to suspend competition laws and issue emergency visas showed there was a crisis, Mr Kwarteng said: "No, I don't think so. The last few days have been difficult.
"We've seen large queues but I think the situation is stabilising. We're getting petrol into the forecourts and yesterday that was matched by the sales."
On Tuesday, speaking for the first time since issues began at filling stations, Prime Minister Boris Johnson also sought to reassure drivers about supplies, saying that people should be "confident" to go about their business.
Labour said the government had let the country "crash from crisis to crisis" – with leader Sir Keir Starmer expected to highlight the issue in a key conference speech later.
James Spencer, managing director at fuel supplier Portland Fuel, said the UK was over the worst of the situation and that sending in the Army would "generate more panic".
"Under normal circumstances supply can easily meet demand," he told BBC Radio 4's Today programme, explaining that consumer activity was the main driver.
"Lots of people have filled up their tanks now, so you might actually see a dip in demand and the replenishment of fuel at petrol stations is a 24-hour, seven-days-a-week job, so as we speak the petrol stations are being replenished," he added.
Fuel supplies are plentiful at refineries but a shortage of tanker drivers caused problems with deliveries to a small number of filling stations last week.
Reports of pumps running dry at some garages then subsequently led to a surge in demand.
The Petrol Retailers Association (PRA) said there were "early signs" the pressure was starting to ease at the pumps.
The PRA, which represents nearly 5,500 of the UK's 8,000 stations, said about 37% of its sites had run out of fuel – compared with two-thirds being without on Sunday.
Sainsbury's, which has 315 filling stations, said it was still "experiencing high demand for fuel" and that "all our sites continue to receive fuel".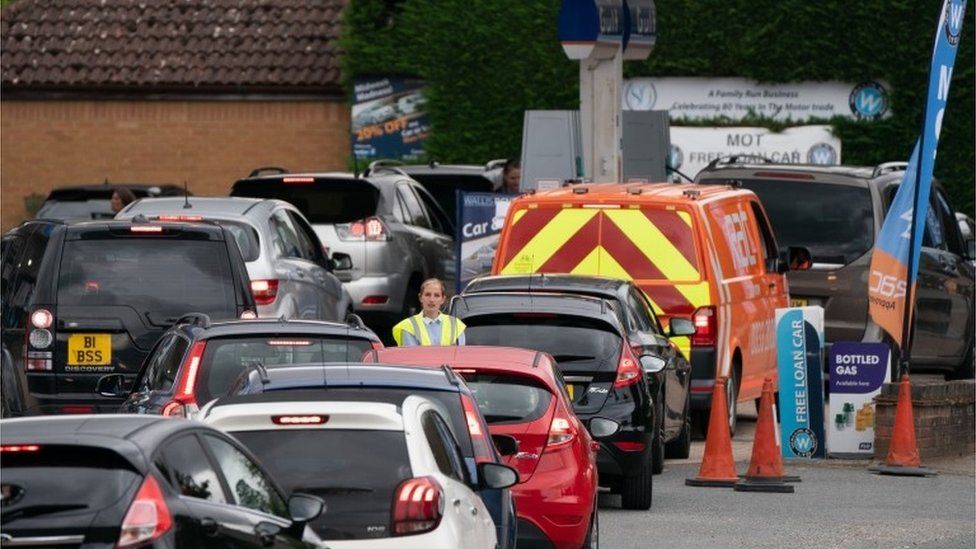 A hypothetical analysis by BBC Two's Newsnight estimated that it would take about eight days for every vehicle in the UK to fill up under current higher levels of demand.
Brian Madderson, chairman of the PRA, said: "Potentially, we could reach a point of some equilibrium between supply and demand towards this weekend."
But the Times reported industry sources as saying disruption could "continue for weeks" because of the time it will take to restock petrol stations.
And Steve McNamara, general secretary of the Licensed Taxi Driver Association, said that the situation was "not getting better", with 25% to 30% of his members unable to work on Tuesday because they could not get fuel.
He called for an essential users list to be brought in to "take the sting out of this crisis".